As the weather turns colder, pet owners often find themselves wondering if their furry friends need a little extra protection from the harsh weather. Chihuahuas, with their small size and short coats, are particularly susceptible to hypothermia.To keep your pooch warm, safe, and snug when going outdoors, experts recommend dressing them in clothes. The top 8 Chihuahua jackets we selected will be of great help to every owner who's looking to wrap up their pup.
Do Chihuahuas need a jacket?
Due to their small size and delicate build, Chihuahuas are susceptible to catching a cold. Even though they have fur, it's not always sufficient to keep them comfortable in low temperatures. Whether or not your Chihuahua needs to wear clothes depends on their age, health, and the weather. If it's a cold day and your dog is shivering or trying to stay warm indoors, putting a jacket on them can make them feel more comfortable.
If you suspect that your dog feels cold, look for signs such as leg raising while walking, shivering, lethargy, and whining. Your Chi can also start to search for a warm spot or hide under the table when you call him/her to go outside for a walk.
At What Temperature Does a Chihuahua Need a Coat?
The temperature where a Chihuahua needs a jacket can be different for each dog. Usually, when it's colder than 60 degrees Fahrenheit (15 degrees Celsius), think about using a jacket for your Chihuahua. But remember to think about how active your dog is, how much cold they can handle, and if they have any health problems. It's better to give your dog a little extra warmth if you're not sure.
What Kind of Coat Do Chihuahuas Have?
Chihuahuas come with different coat variations. They can have a short coat or a long coat, both of which have their advantages and challenges. The short-coated Chihuahuas have a sleek and smooth coat that offers minimal protection against the cold. On the other hand, long-coated Chihuahuas have a fluffy and often thicker coat, providing them with slightly better insulation. However, even long-coated Chihuahuas might need additional protection in extremely cold weather.
How To Choose Chihuahua Jackets?
Selecting the perfect jacket for your Chihuahua might seem challenging, but it's crucial for their well-being. Chihuahuas are prone to feeling cold due to their small size and short legs, which keep their bellies close to the cold ground. Walking on snow or ice can be uncomfortable for them. Additionally, Chihuahuas regulate their body temperature partly through their paw pads. So, besides Chihuahua jackets, it's advisable to provide them with protective dog boots during the winter.
Here are some important tips to help you choose the right Chihuahua jacket.
1. Get your Chihuahua's size.
Before you go shopping for a jacket, make sure you know exactly how big your Chihuahua's chest is and how long its back is. Different brands may have different size charts, so if you know your dog's exact lengths, you can choose the right size.
2. Take into account the weather
Think about what the weather is like where you live on average. If you live in a place where winters are cold and wet, choose a jacket that will keep you warm and protect you from the wind and rain. For places with warmer weather, a lighter jacket might be enough.
3. Things that matter
Look for jackets that are made of high-quality materials that will last. On rainy days, it's best to wear clothes for Chihuahua that are waterproof or can fight water. Fleece-lined jackets keep your Chihuahua warm, and materials that let air in keep him from getting too hot when he plays.
4. Easy to get on and off
When it comes to getting dressed, Chihuahuas can be picky. Choose a jacket that is easy to put on and take off, especially with closures that can be adjusted to make sure it fits snugly without hurting.
5. Think about the type of coat your Chihuahua has
Chihuahuas can have either short or long coats. If your Chihuahua has a long coat, you may not need a jacket that is as heavy. Chihuahuas with short coats do better with jackets that are warmer and cover more of their bodies.
On the other hand, finding the right size of teacup Chihuahua clothes might sound challenging. Since they are so tiny, and quickly lose body heat, dressing them in protective clothing is essential.
These pooches can't stand long winter walks and living in cold climates. So, if you live with a teacup Chi, make sure you prepare well for the winter season!
6. Look and Being Seen
Even though utility is important, style can also be important. Choose a jacket that fits your Chihuahua and your own tastes. Also, coats with reflective strips or bright colors make it easier to see when walking, especially when it's dark.
7. Make sure your dog feels good
The happiness of your Chihuahua should be your number one goal. Make sure the jacket doesn't make it hard to move or rub. A Chihuahua jacket that fits well should let your dog move around easily and keep them warm.
8. Look at the reviews and suggestions.
Read reviews from people who have bought the same jacket for their Chihuahuas before you buy it. Their opinions can tell you a lot about how the jacket fits, how well it is made, and how well it works overall.
9. Think about what your Chihuahua likes.
Each Chihuahua is one of a kind. Some people might love how cozy a jacket with a hood feels, while others might prefer something lighter. Watch how your Chihuahua acts and reacts to see what kind of jacket seems to make them the most relaxed.
What Are the Top 8 Picks for Chihuahua Jackets?
When it comes to Chihuahua jackets, choosing the right one can be a blend of practicality and fashion. Here are our top 8 picks that combine warmth, style, and comfort for your beloved furry friend:
This insulated jacket offers superior warmth and comes with a soft lining to keep your Chihuahua comfortable during winter walks. Besides, it covers the dog's legs which is especially important if you want to take your pooch on snow adventures. Since it covers a great part of your dog's body, you can stay calm by knowing your dog is safe even in harsh weather. Choose between 4 colors and let your dog shine in one of these warm Chihuahua jackets.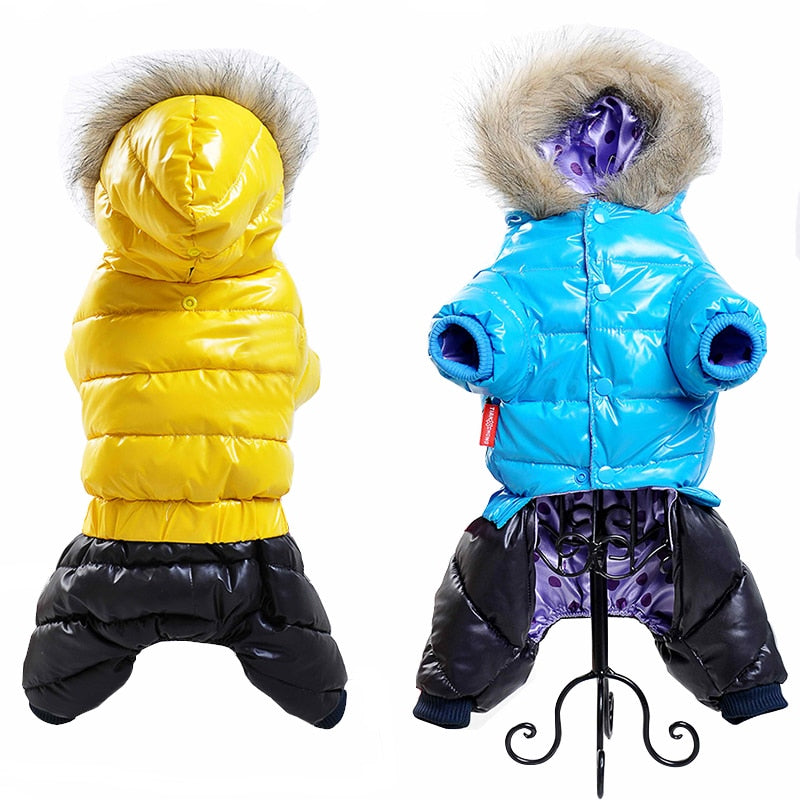 With a cozy fleece lining and cute faux fur, this Chihuahua jacket is perfect for keeping your pooch warm and stylish. The vest is available in 3 colors, and it also features a D ring on the back so you can attach the leash when going on strolls. Thanks to this practical design, there is no need to put a harness or a collar on your Chihuahua.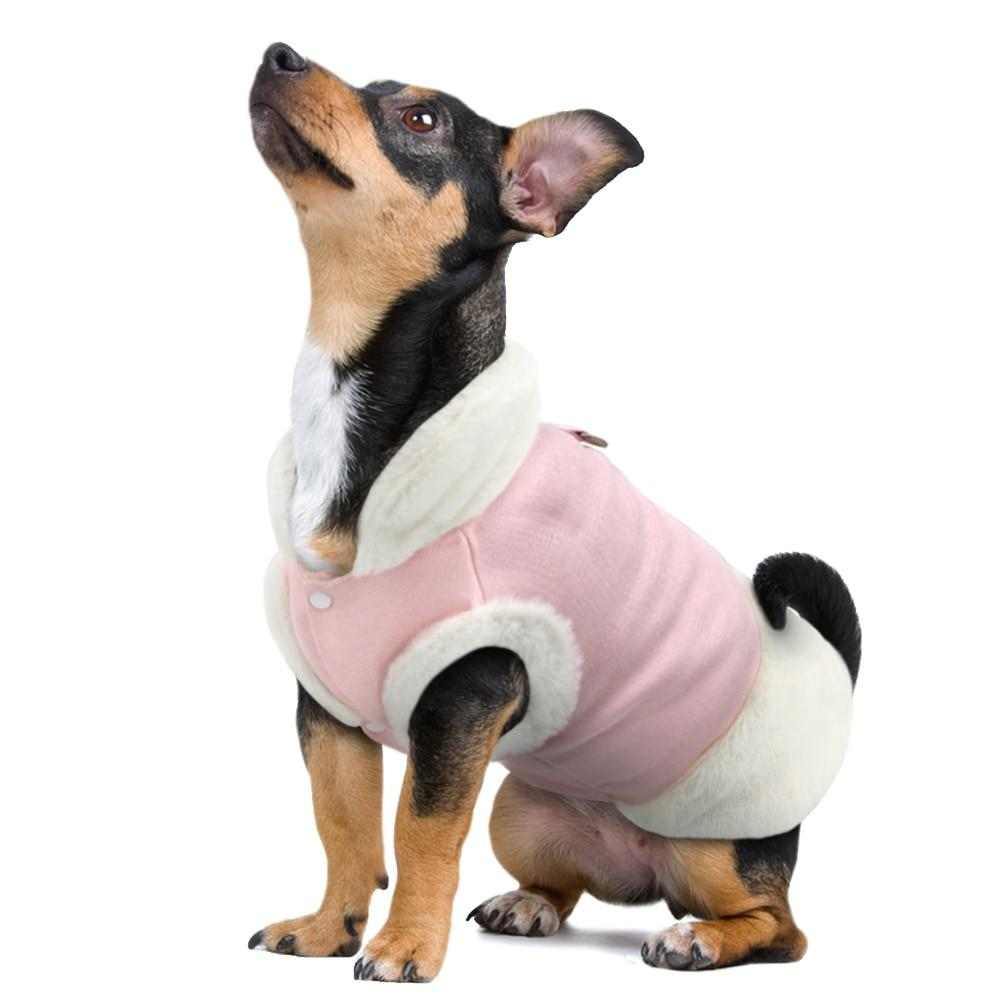 For those rainy and windy days, a waterproof windbreaker will keep your Chihuahua dry and protected from the elements. It's made from a glossy fabric that won't let the rain and snow to wet your Chi's coat. We also adore the reflective stripes on the back because they will keep your dog visible in the dark.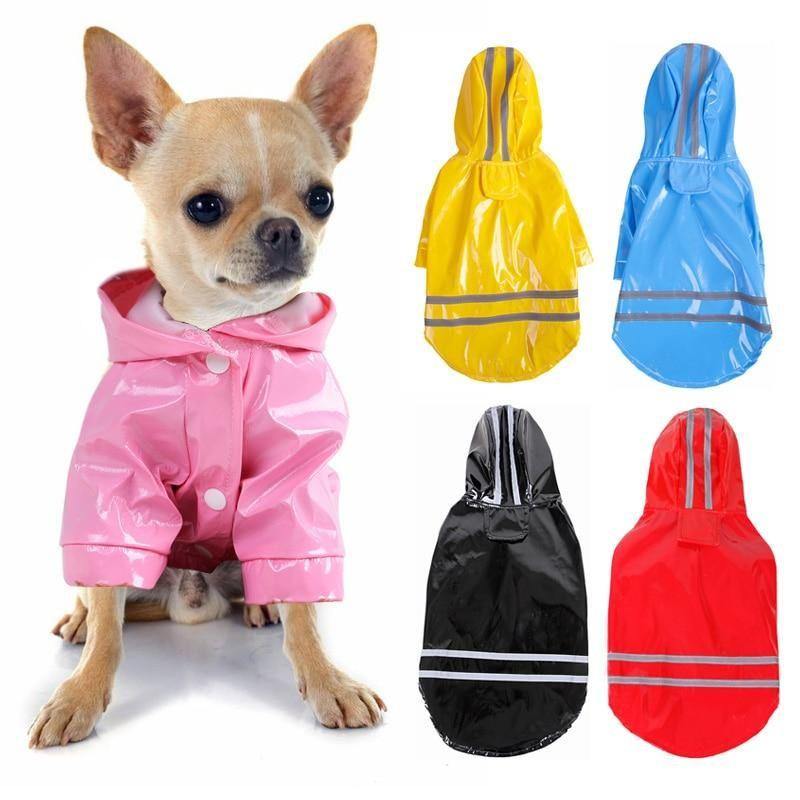 A puffer vest not only provides warmth but also adds a touch of fashion to your Chihuahua's winter clothes. It comes in pearl rose and pearl white colors and features a button closure on the belly. Thanks to a pp cotton filling, this Chi vest represents the perfect solution when taking your pooch outside in cold weather.
For enjoying rainy and snowy adventures, this waterproof jumpsuit will be one of the best picks for your Chi. It comes in blue and bright yellow colors and features a reflective stripe on the back. This addition can be of great help when walking your pet in low-light conditions.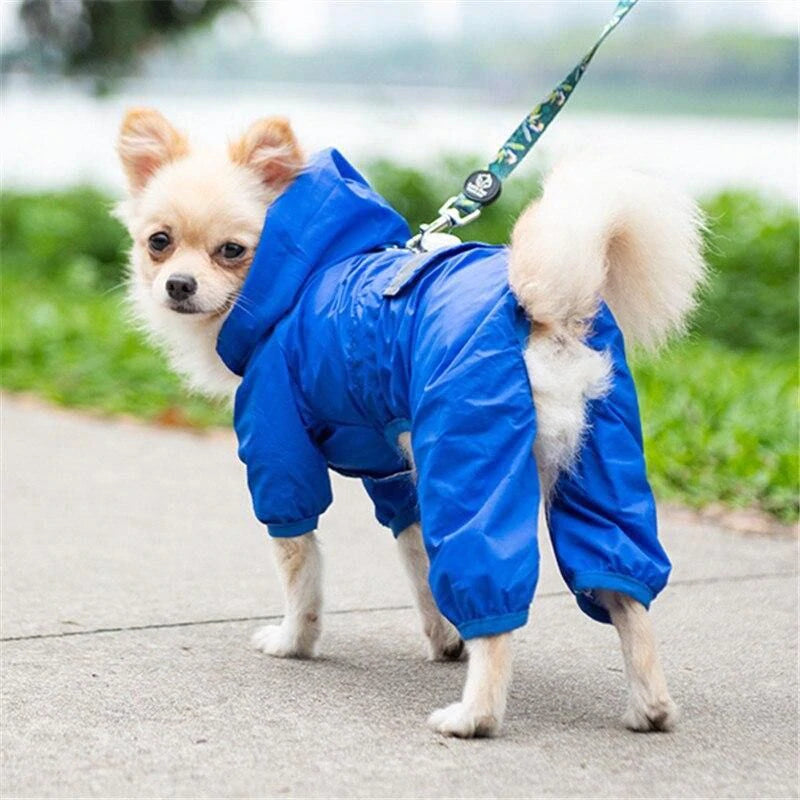 Are you one of those pet parents who adore dressing their dog in chic and trendy clothing? Well, if you're looking for Chihuahua jackets that will put all eyes on your dog, then this is the item for you. Inspired by luxury fashion brand, and decorated with silver printed details, this pick will become one of the most wearable items for rainy days.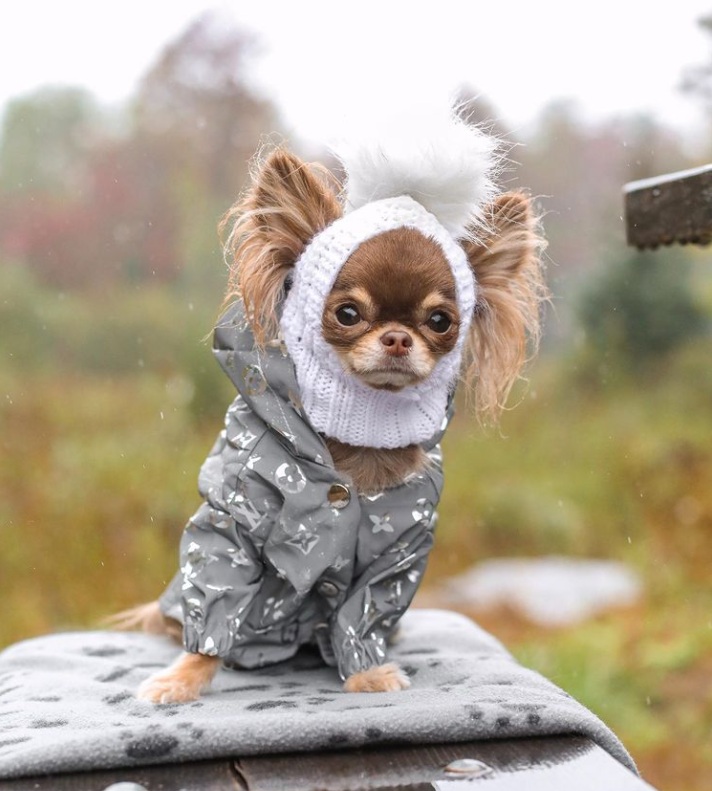 Designed to cater to special occasions, this dog jacket exudes a refined charm that sets your pet apart. Whether it's a leisurely walk in the park or an upscale event, the Furendi Monogram Warm Dog Jacket promises snugness while echoing the legacy of Fendi's style.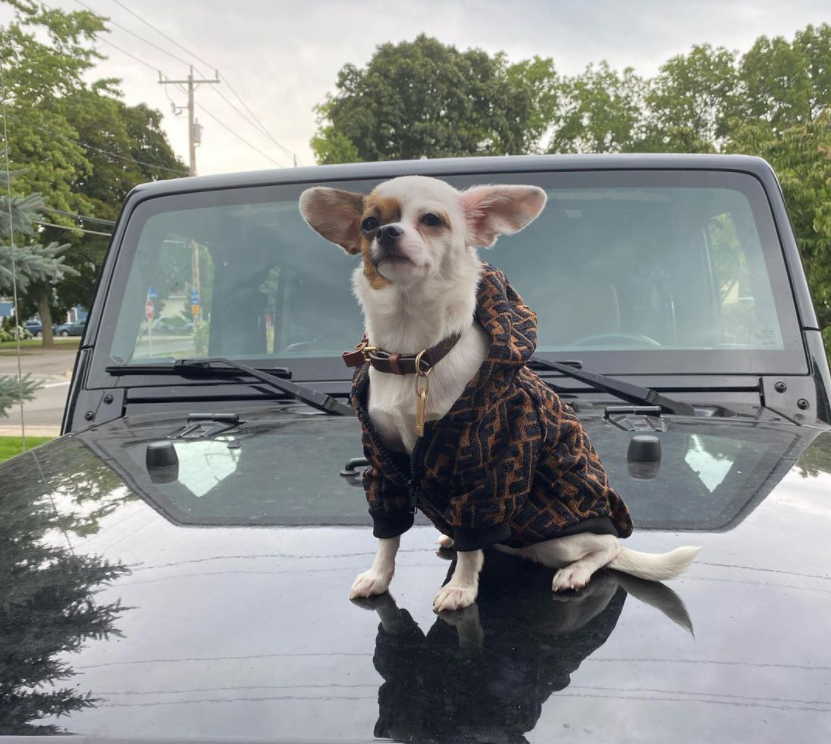 For the ultimate fashion statement, this Chihuahua jacket adclods elegance and warmth to your dog's outfit. The bomber cut screams fashion and luxury, while the design inspired by one of the world's famous fashion brands will make everyone turn their heads.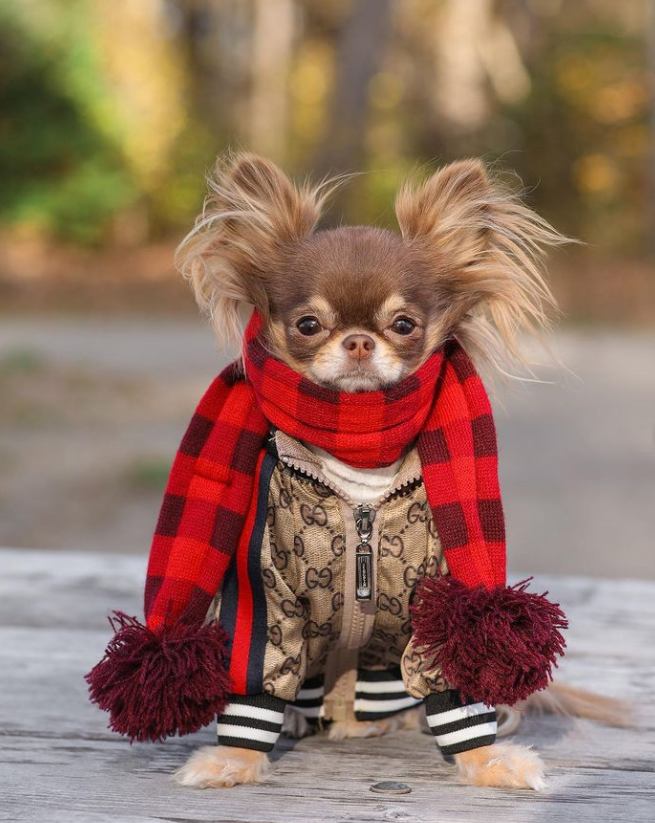 Choosing Chihuahua jackets: Wrapping up
Jackets can make a big difference for Chihuahuas in colder weather, especially if it's less than 60 degrees Fahrenheit outside. The type of coat they have and what they like can affect how much extra warmth they need. To find the best jacket that works well and looks good, take a look at the top 8 Chihuahua jackets listed here. Your little buddy will stay warm and stylish at the same time, getting all the attention they deserve in their cool winter outfit.